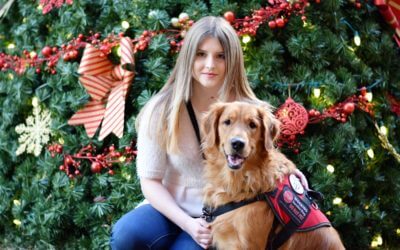 Support Through Love and Courage
Summer Quickle, Guest Post
My name is Summer Quickle. I am fifteen years old and a freshman in high school. I am writing to you to tell you about my Superpower Dog team. Libra is my Superpower Dog.
She is a Golden Retriever service dog as well as a therapy dog. We have been a service dog/handler team for two years. I trained Libra myself with hard work and dedication. I couldn't ask for a better service dog. We attend Liberty High School together in Clarksburg, WV. She makes it possible for me to get through the school day.
I began training Libra to be a service dog when she was twelve weeks old. If it weren't for Libra, I wouldn't have the quality of life that I have today. I have Post Traumatic Stress Disorder from something that happened to me as a child. Libra is trained in many tasks that mitigate my disability. Libra wakes me up from nightmares, grounds me during panic attacks, and leads me to exits when I'm too overwhelmed.
Libra, Summer Quickle's Superpower Dog
Photograph by Summer Quickle
We are also in the Junior Humane Society club at my school, and participate in various other activities in my community. 
While Libra provides all of the necessary support for me as a service dog, she also gives back to others.
She is a certified therapy dog through the Alliance of Therapy Dogs organization. Libra has also earned her Canine Good Citizen title through the AKC, and is currently working on earning other titles. We visit many different hospitals, nursing homes, and libraries together. Her favorite place to visit is the West Virginia Veteran's Nursing Facility. Libra and I enjoy listening to the veterans reminisce about their stories from combat. There is one patient in particular that loves seeing Libra and sharing his stories from World War II with us. 
In addition to her two very important jobs, Libra is also an educator. Libra and I have visited many different elementary schools, educating the children about the importance of not disrupting a working service dog. She demonstrates various tasks and shows the children what being a service dog is all about. Libra also provides a therapy dog demonstration – which she loves.
Libra's superpowers include: her ability to be an amazing service dog, spreading happiness to others as a therapy dog
For about fifteen minutes, the children get to interact with Libra as a therapy dog. At the end of our presentation, the children understand the difference between her two important jobs, and have learned proper etiquette around service dogs.  When Libra is not working, she enjoys spending time with her adopted sister, Piper, a long-haired German Shepard. Piper is in training to become a therapy dog just like her big sister. She dreams of becoming a Superpower Dog herself someday. Libra loves teaching Piper the ways of a working dog.
Libra and Summer taking their victory stride at homecoming!
Photograph by Summer Quickle
Libra's Superpower Dog superpowers include: her ability to be an amazing service dog, spreading happiness to others as a therapy dog, educating everyone about her two incredible jobs, and helping other dogs embrace their inner superpowers. 
Coming to IMAX® and Giant Screen Theatres March 2019